Some Favourite Blogs
All The Blogs I Read
Knitting Links
Learn to Make it
Sunday, April 30, 2006
And the Renovations Begin
I have to tell you that this working mom stuff is tough. It wasn't so bad when I was working Thursday to Monday and had some evening hours. 830 to 5 is going to take some getting used to. Getting myself ready, getting Jo ready and out the door by 810 is crazy some mornings. Jo is getting a little more independent each day which works in my favour some times, but the stubborn streak can really slow me down.
I have settled in to the new job well. The more I do, the more I remember what to do from 31 months ago when I left the position. I'm learning more of the payables and inventory now instead of just the receivables. The computer system is really very easy. The company uses
RFMS
for all the entry. I think in another week or two, I should be fine! The days go by quickly which is a good thing. My office has a window that overlooks the warehouse and Hubby was loading his truck on Friday afternoon when I heard him say, "She better be or she's in big trouble" to the boss. I asked him about it later and he said that the boss told him that I was working really hard and he's impressed with how quick I'm picking everything up. It was a nice feeling to hear that.
On to the beginning of the renos. It was a beautiful weekend and we spent most of it outside. Hubby was a busy boy doing this:
Removing the Siding

About the take the Tar Paper off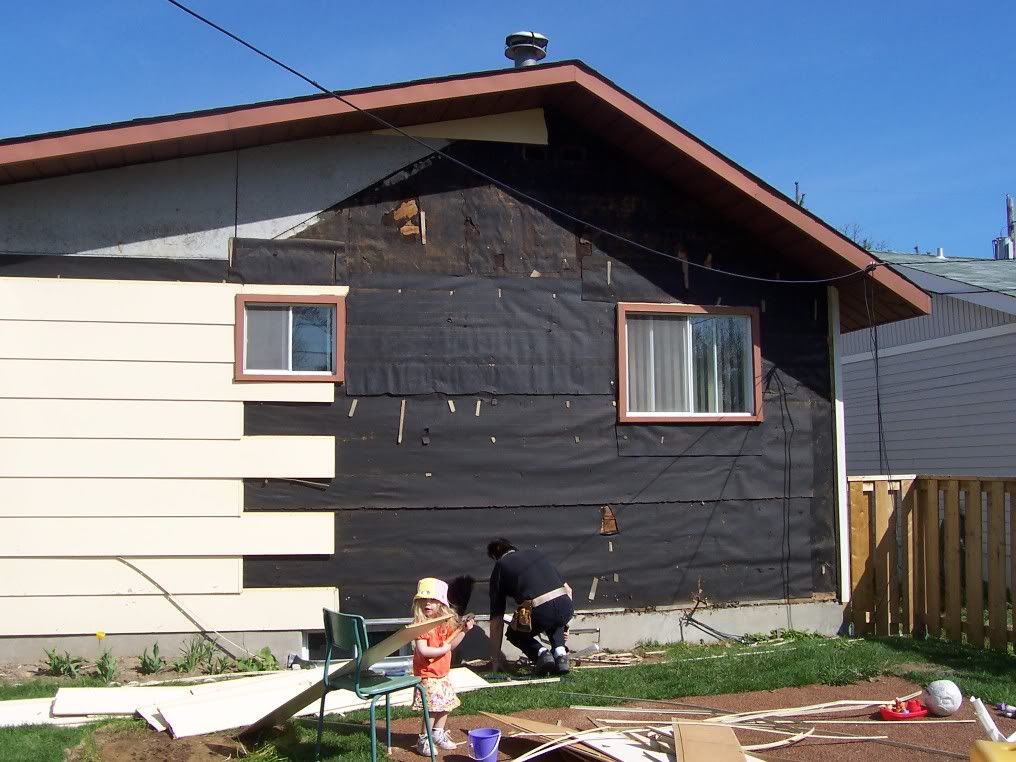 Almost time to knock the wall down

Bracing from the inside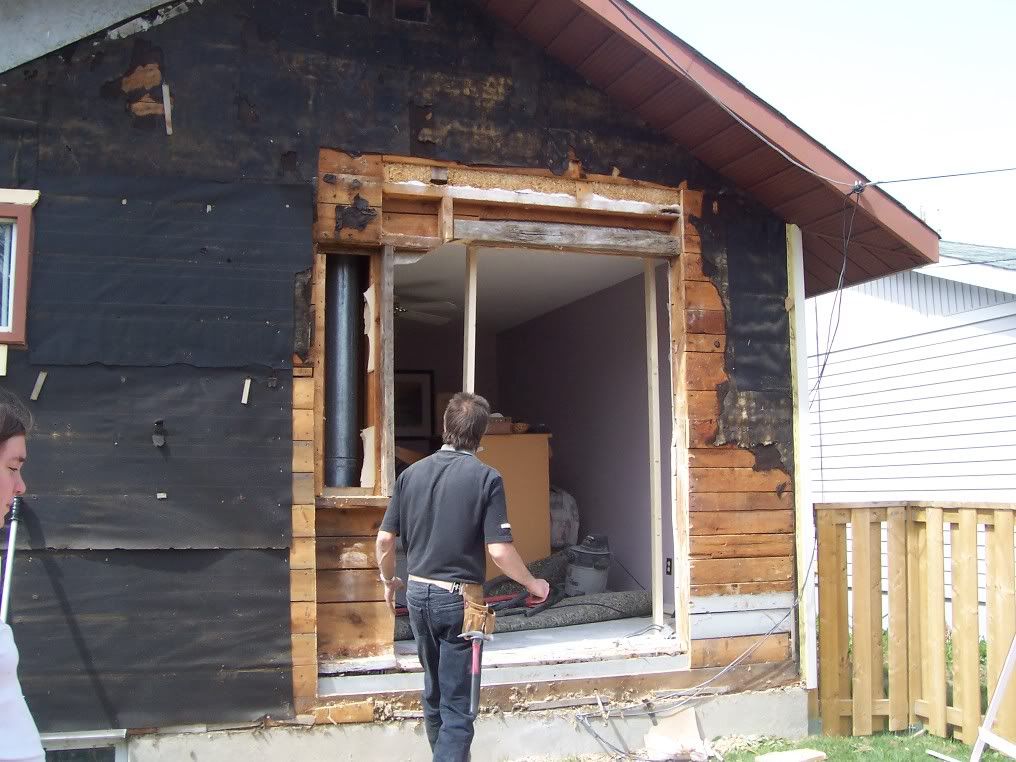 Almost level and ready
Done!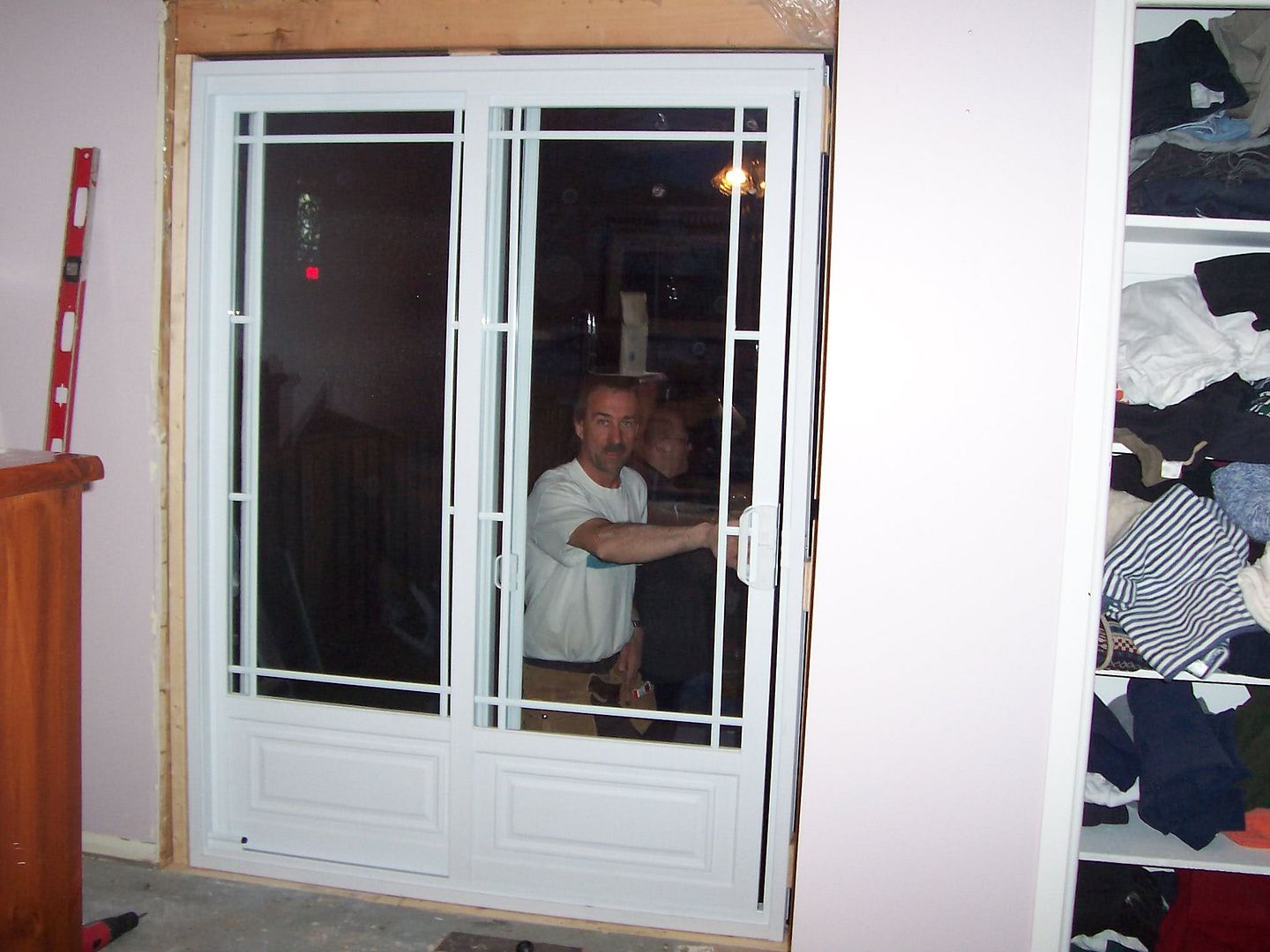 We learned this weekend that the original house is made from 2x6's, insulated with sawdust and was only 18 feet wide. Can you imagine? 30 x 18 and no basement. If you look at the pictures up near the roof the gray part on the left is the addition. All went well and I have great video of Jo pulling the sawdust out of the walls. Hubby did great! He had very little help and as much as Jo wanted to help, she just couldn't. So the next few weeks will be more windows, siding and then we are heading to Renfrew for a wedding on June 3rd and will likely have the driveway paved the week prior. My brother is moving out this coming week and hopefully by nest weekend I will have a proper office set up in the room which he has been in for the last 4 years.
I'm hoping to get into a routine one of these days, to properly email, read and respond to blogs and just have 10 minutes of peace to myself. Hubby is working very late tomorrow night, so I'm on my own.
Here are some weekend pics!
Is it just me or does she look about 12 in this picture? She's on top of the step ladder!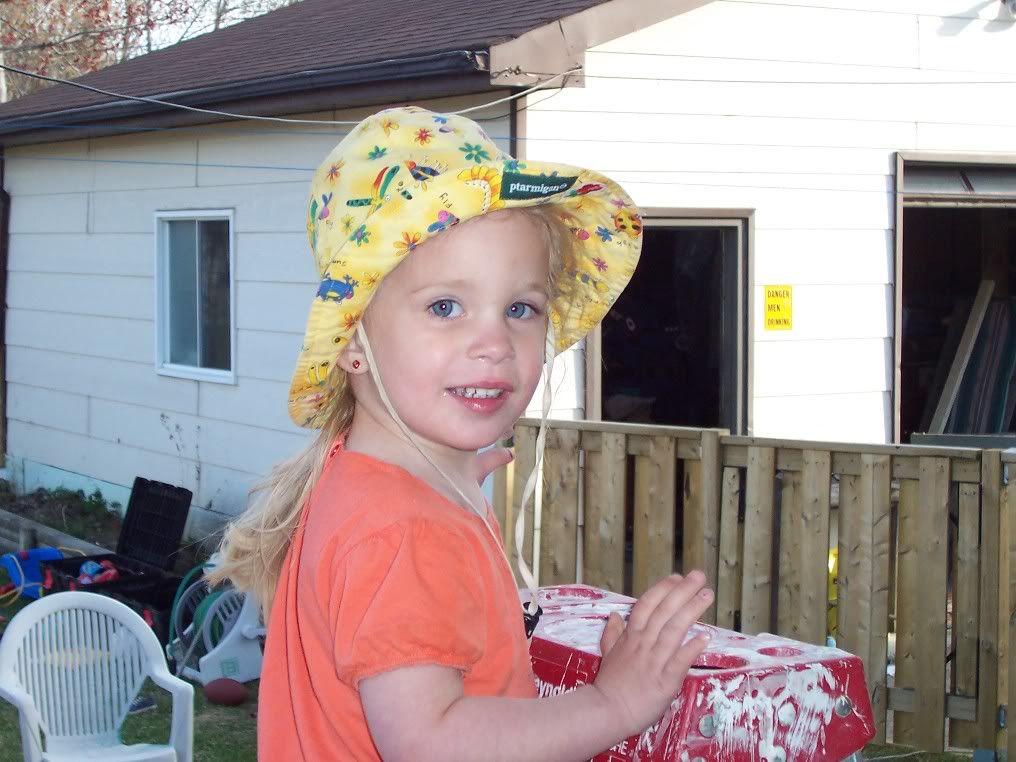 She has no fear either!

Happy Monday
posted by Northern Mom @ 1:06 p.m.

Wednesday, April 19, 2006
Wednesday..the hump in the middle of the week
This week is flying by far to quickly so here's some odds and ends from the week so far.

Thanks for the comments on the camp. It's not ours. I wish it was! Hubby has done a lot of work there including trying to nail himself to the roof during one addition. He is a floorologist (his word) by trade and between the 2 of us we came up with this pattern for the kitchen at the camp. This picture is standing by the sink looking out of the kitchen.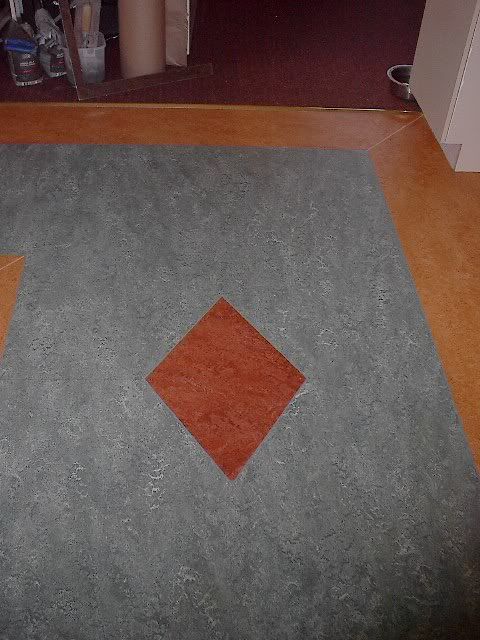 This picture is the finished floor looking into the kitchen from the dining area. The border pattern continues to the door. Hubby had a bunch of pieces of Marmoleum left over from a few different jobs so instead of wasting this was the result.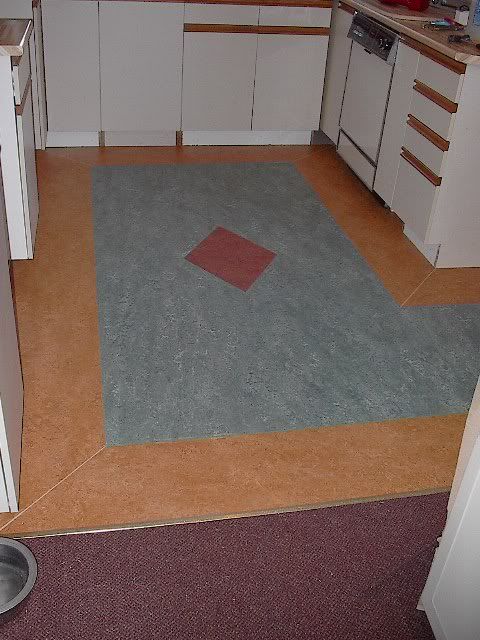 I'm sure that there will be lots of work this fall with the basement being added. It will become their retirement home and will sell the house here in the city. It's a great place to go anytime of the year.
I bought 3 tickets to see Dora at the end of June yesterday. I haven't told Jo yet that we are going. I don't think she will understand having to wait 71 sleeps until the show. I bought an extra ticket for Kelsey and if she thinks I'm going to divulge the price of the tickets she came to the wrong blog. I managed to get 2nd row seats to the left of the stage. Platinum is what they were called. I'm hoping that Jo enjoys it!
Hubby went to price windows yesterday. I'll be meeting him later today to have a look at them and decide if the door he picked will be the one we will get. The door is at the top of the basement steps and I find the stairway so dark and dreary that I want a door that lets in a lot of light. The door that he picked is almost all window with the blinds built right into the window. I was leaning more towards one that had the frosted window panes. They both have pros and cons. The one with the frosted glass gives us privacy, but the one with the blinds will give us more light. The windows are almost a no brainer. I really wanted a bay window in my kitchen over the sink. I don't think that's going to happen. To replace the same size window is about $200.00 and to order a bay window is almost 1000.00 and we have to build a roof for it. Can you guess which window I'm getting?
Speaking of money. The gas in our part of Northern Ontario hit 111.9 yesterday. Just before the long weekend it went to 106.9 and was down to 104.5 yesterday afternoon. I have less than half a tank. Figures. It is rumoured that we can expect to pay up to 149/litre by mid summer. If I get back to work I just might consider picking up a little car to boot around in. But I suppose by the time I pay the insurance I won't be much further ahead.
My dog has finally decided to shed her winter coat. It's driving me insane. We have a Siberian Husky. The fur flying around this house is insane. She hates to be brushed or combed but I think I'm going to have to take the comb to her anyways. The fur is falling out in clumps. She's a beautiful dog but once she is gone there will be no more dogs for us. There are too many places we can't take her. We used to take her to camp but she little dogs are a snack for her and we just don't take the chance anymore. Here is a picture of her from a few years ago at camp. She will be 9 in June. We were really worried about her when Jo came home. She actually adjusted really well and tolerates Jo amazingly. She's a great dog for the most part.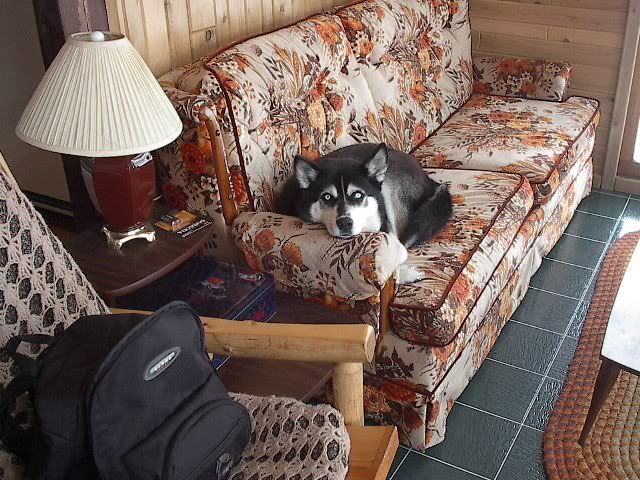 As of the weekend the snow in our yard is officially gone. While driving out to camp on Saturday we drove by one of the golf courses and there is still snow is places and there were people out playing. I like to golf, and lose enough balls without adding snow to the mix. White balls are tough to find in the snow. I do love to golf in the spring. No black flies or mosquitos yet and when your ball strays from the fairway it's easier to find before everything has started to grow.
Jo came home from Daycare yesterday smelling just like summer! Sunscreen season has started for us. I was playing with her on her swings and I gave her a push that sent her flying and landing on her back on the ground. I picked her up and felt like a shit for hurting her. Between the sobs she told me to put her back on the swing and go higher mommy. Right back on the horse. I think I'm in really big trouble with this child. She has no concept of fear.
Last week Dani and this week Silver Creek Mom both posted about the prefix of Mrs. and Ms., family names and changing them when married. There are days that it bothers me that my Visa says Mrs followed by my name and then married name. When I married my first husband I took his name and within a month of breaking up I was back to my original name. When hubby and I were getting married he was adamant about me changing it. I changed it. Looking back I suppose I could have fought the point. I'm just glad that we are past the days of being Mrs. Hubby's entire name. My ex MIL had been a member of the Girl Guides for years and years and they could never find her membership. She had registered under her husband's name as Mrs His first and last name. Years ago I met a man who had a french/spanish hyphenated name and he and his wife combined both of their names. I don't think I'd like to lose my total identity. I have a perfectly good first name to use. If ever find myself in the same position that I was in when my first marriage ended I will be returning to the name I was born with.
Step Dad is coming home today. It will be a long recovery I think and hopefully this will help to add a little more to his life. All will depend on bloodwork and the speed at which the cancer decides to travel. We're still not sure if Chemo will be an option. I'm still very concerned about my mom. It's going to be a long road for all of us. On the weekend my cousin gave me a "Thingamaboob". It really puts the whole cancer thing into perspective. The size of the beads represent the different size of of lumps found in the breast at different points of examinations. Time to start being a little more aware.
I did call yesterday and make an appt with my Dr to have a few things addressed. I think getting back to work will make a big difference and I'll talk to him about changing meds and see what happens from there. It's not until May 9th. I'll hang in until then. I might even consider increasing my dose. I'm at the low end of the dosing so maybe addding one pill a day might help. The one think my Dr is great for is giving me some options where the amounts are concerned. He starts me at the lowest and then has me increase on my own as needed. I should have thouht of this sooner. Maybe some day I'll learn to recognize the highs and lows and know when I'm starting to sink. I think starting today I'll try that and then maybe the extra will have kicked in by the time I see him in May. There is nothing worse than switching depression meds. It normally takes 3 to 6 weeks to see any effect, so when you change there is a 3 month window where things are really up and down.
It's supposed to hit a high of 20C today. Time to shave my legs and maybe break out a pair of capris and start my day!
Good day to all
posted by Northern Mom @ 8:11 a.m.

Monday, April 17, 2006
What a Weekend
I'm not even sure where to begin! The weather was alright. Not spectacular by any means, but we were able to be out quite a bit.

Friday was a pretty lazy day. Hubby and Jo spent lots of time outside and I relaxed inside. We forgot hubby's godchild's birthday at the beginning of April so we went out to visit her and had cake! We spoiled her a little more than usual, I can't believe we forgot.

Saturday we went to camp for the day and spent it with great friends.
Just to clarify:
Camp in Northern Ontario is the same as a Cottage in most other parts of the world. There is hot and cold running water, flush toilet, dishwasher and just about everything else including satellite TV. Here is a a picture of the camp from a few winters ago. It's actually being lifted this summer and a full basement is being added on. It's not far from home. It only takes about half an hour to get to, but is far enough away that you can relax and leave your worries behind.


We had a great Easter Morning! At 630am Jo was in our room so excited because The Easter Bunny left her some eggs. I opened my eyes and told her to look in her room to see if the Easter Bunny left her a basket and maybe there were more eggs hidden. She was all over the living room looking for them. They were pretty easy to find and she didn't realize that there was a bunch of goodies to go with the eggs.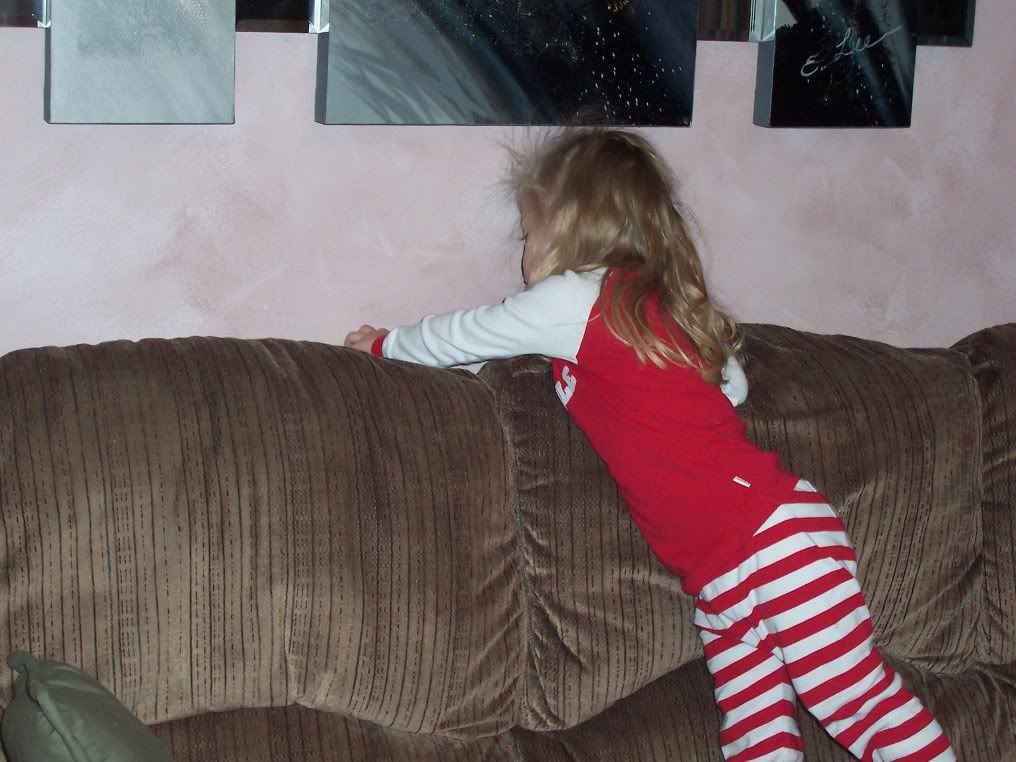 Once she found all her eggs and we showed her where the play doh and bubbles were I sat back in the recliner and asked her what was behind her easel....Her eyes got as big as saucers and I missed the photo op....slow mommy, but got a few shots. She was so excited to find a bike hidden behind! She more excited than she was on Christmas Morning.

She spent the better part of an hour riding the bike outside. It took all of about 3 minutes for her to figure it all out. She cam in a slept for 3 hours. I can't decided if it was the bike riding or the chocolate she ate for breakfast that brought on the huge nap! Her Uncle raked the driveway so that it would be in great shape for a bike ride. It will be much nicer when we get it paved. She even took the bike to my dad's for supper and rode it the whole time there. Her cousins took off on their bikes and she tried to keep up. She tried so hard, but they are 10 and their bikes go a little faster.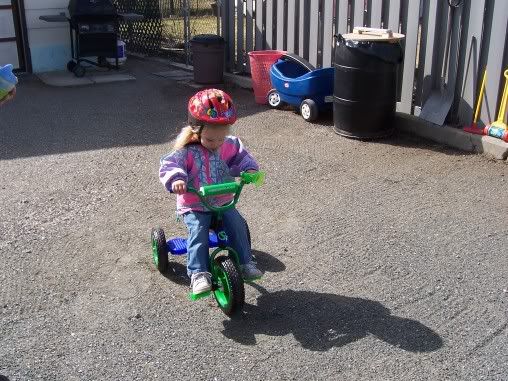 Today was a great day weather wise. We were out this morning and played with the girls across the street, had a nap and we were back out again. It's nice when there are other kids to play with. No school is a nice thing somedays.
My friend that I wrote about last week is handling things some what well. She said that if she doesn't think about it then it's not so bad. The kids don't know and they are really trying to keep it that way. She and her siblings went to see him on the weekend and sounded like a rough time. We don't really talk about it unless she brings it up. I did call her and told her that we are here for her for whatever reason and that what happened is no reflection of her.
I did get some good news! A friend of mine who after 3 years of TTC (trying to conceive), countless IUI's found out that her first IVF was successful! Her embryo quality was amazing. One of her embryo's was at the morula stage at day 3! They were able to freeze 2 more that made it past the blastocyst stage at day 5. I haven't talked to her yet to find out her HCG levels. I do know however that it is indeed a positive and am only thinking positive thoughts. She has had 2 early miscarriages. I am hoping that this will be a wonderful Christmas for her!
Hmmm what else?
Did I mention that we had a wet basement this weekend too. A few times since we've owned the house we have had water in the front corner. Hubby took the drywall out at one point to see where it was coming from and never found it. We just left it and didn't have water again....until Wednesday night. Of course the snow is gone, so where did the water come from? Hubby again took the drywall out and went so far as to take the studs out where he could see the water running. It looks like the previous owners decided to move the water meter and cut the pipe, but never capped it. It has been covered for the time being and once my brother moves out we will fix it properly and put the water mystery to rest. I'm almost scared to start these renos. We have a plug in the kitchen that only half of worked. It didn't take long to figure out that if the dryer and the fridge were running at the same time we blew a fuse. The wiring for the dryer is scary. There is 110 from one plug and another 110 from the plug behind the fridge to run the dryer. If that's the kind of wiring, I wonder what else we'll find once we really get going.
I've been feeling pretty tired lately. Not sure if it's the change of seasons or that I am becoming immuned to my meds again. I've been on these one for the longest time and I fear it's time to have them changed. I'm running out of options. I suffer from depression and the list of meds that don't work anymore is longer that this list of those that I can try. I think too that not being at work is taking a toll as well. I guess it's time to make a Dr's appt and get a whole work up done.
I'm off for the night!
posted by Northern Mom @ 9:23 p.m.

Monday, April 10, 2006
Nothing to Blog About
It's been a boring few days.
Lemme see....
Jo had a sleepover at her grandma and papa's and had a great time. She got to meet Olivia and told me that Olivia didn't cry, she only yawned.
We went to a wedding reception. It was great to see everyone especially ones that we hadn't seen in ages.
We bought a new fawcett for the bathroom sink and a tricycle for Jo for Easter.
We finished the paperwork for the mortgage and picked out siding.
I finished the draft of our new bedroom. Instead of 2 closets we will have one walk in closet.
It has been boring...Hopefully I'll have more to blog about tomorrow!

I shudder to think of the hits this may get....but it's funny!

INDIAN WITH ONE TESTICLE..........

There once was a Red Indian whose given name was "Onestone".
So named because he had only one testicle.
He hated that name and asked everyone not to call him Onestone.
After years and years of torment, Onestone finally cracked and said,"If anyone calls me Onestone again I will kill them!"
The word got around and nobody called him that any more.
Then one day a young woman named Blue Bird forgot and said, "Good morning,Onestone." He jumped up, grabbed her and took her deep into the forest where he made love to her all day and all night. He made love to her all the next day, until Blue Bird died from exhaustion.The word got around that Onestone meant what he promised he would do.Years went by and no one dared call him by his given name until a woman named Yellow Bird returned to the village after being away for many years. Yellow Bird, who was Blue Bird's cousin, was overjoyed when she saw
Onestone. She hugged him and said, "Good to see you, Onestone." Onestone grabbed her, took her deep into the forest, then he made love to her all day, made love to her all night, made love to her all the next day,made love to her all the next night, but Yellow Bird wouldn't die!

What is the moral of this story?????.......................OH, come
on...take a guess! .


Think about it (You're going to love this!)

And the moral is...

Anyone know????
posted by Northern Mom @ 10:12 p.m.

Wednesday, April 05, 2006
What do I call this Post?
I've been wandering around the city for most of the day and blogging in my head.(Thinking of Dani's Beloved knowing when she is blogging in her head) Of course when I sit at the keyboard my mind takes a vacation. I've considered the titles "Bittersweet" or "Not my Choice" or "Why Not Me?" or "Feeling Sorry for Myself?"

All of this has been brought on by my new neice. I was over to the hospital this morning and held Olivia, changed a diaper and cuddled her while she slept. She is an adorable little girl and it brings so many memories flooding back.

Where am I going with this? Those who know me, will be shaking their heads right now and can probably guess.

While I was visiting with SCM (Silver Creek Musings) over the March Break I was trying to explain to Kelsey (my sitter and considered my first born) how so many of us are blessed and lucky to have the children that we have but that our choices are limited. We can't just have a great night with hubby and in 2 weeks start buying baby clothes. I'm not saying that I want another baby and that I'm not happy with having only one child, but what if I did want another one. It's not my choice. I have to reason with myself and convince myself that by having an only child we can give her so much, but the little voice in the back of my head argues that we should give her a sibling. Things are getting easier and easier everyday. No more diaper bag, booster seats or playpens to lug around for out of town visits. Waking in the middle of the night is a rare occasion anymore. I'm not sure that I have a patience to deal with another child either. There are days when Jo has pushed my limits as far as she can and then I feel so guilty becuase I don't have the patience I should have as a mom.

I really thought I was over the whole wanting a baby thing. I could feel the tears welling up listening this afternoon as my step sister replayed how hard the labour was and how happy she was that she had a c-section. I want to know what labour feels like. There are days when I forget that I didn't give birth to Jo. I was there, I saw her being born. I coached her birth mom through labour and yet I want to experience it first hand.

It wasn't my choice to have Jo as an only child. That choice was taken away when my fallopian tubes decided to be on strike and were too lazy to move the little embryos to my uterus where they were supposed to be. It wasn't my choice to only have 3 IVF cycles covered and then with no more than a wave from the clinic be dismissed. I condsider myself lucky to have had 3 chances, but the odds weren't in my favour. I don't know if I could emotionally cycle again. Physically is hard, but the ups and downs are just too hard. If somebody handed me 10 grand and said I could cycle again, I probably would.

Before Jo came into our lives I could never understand how couples went through IVF so many times. I never understood why if you had a child that you would be putting yourself through the agony again. I just thought that once you had a child that the yearning went away. It doesn't. I guess maybe I hoped that by loving Jo the way I do, that the need would go away.

I peek in on Jo every night before I go to bed. I go in, cover her, kiss her and just watch her sleep. When I get feeling like this I don't ever want her to think that she isn't enough. She is enough. I know that, but the emotions are so up and down with infertility that one day you are fine and then Wham it hits you all over again. Had it been my choice to have only one it might be so much different going to see a newborn.

It was a bittersweet day. My SS thought she would have trouble concieving. She and her hubby have been together for more than 10 years and hardly used any birth control. There was even an HSG at point years ago. Olivia is her wedding gift. She is a honeymoon baby. I'm thrilled for them and it's great to go out and buy baby girl things again. Jo and I had a ball yesterday buying outfits for "My new baby cousin" as Jo calls her. But bittersweet it is. I just have to remind myself that I won't be the one walking the floors for what seems like hours on end, I don't have to deal with colic, sterilizing bottles, mixing formula and exploding diapers.....
(

but you all know I would do it all in a heartbeat!)



Having typed and read this helps me to feel a little better. I'd be lying if I said there weren't tears welled behind my eyes. I am a new auntie again! I am happy, but a little jealous at the same time. It doesn't help either that my Aunt Flo decided to show up this morning too. Damn the bad timing.

I'm off to curl up with a book and escape to the world of lawyers in million dollar houses who can't get their love lives quite straight. I can't say I learn much from romance novels, but when you can run away to your own little oasis and forget about the real world for an hour or two it's not wasted time.

PS....proud auntie pic below, taken by me this afternoon!


posted by Northern Mom @ 3:14 p.m.

Ramblings This Morning
I'm unsure about what I want to blog about today. My mind is feeling rather scattered this morning and I'm seriously condsidering going back to bed. The only problem with doing this is that it will wreck my entire day. I have some eBay work to do and I plan on going over to the hospital this afternoon to meet Olivia.


Olivia arrived shortly after 2am yesterday morning. Jo is so excited that she has a new baby cousin! I do feel badly for my step sister. Her water broke at 530am on Monday morning and I don't have all the details except that a c-section happened almost 24 hours later. My step mom was telling me how hard it was. That I can only imagine. All is well and she weighed in at 9 pounds and 9 ounces. I don't know much more than that. Hubby was home early yesterday and I was very tempted to go and visit, but decided to wait until today. I'll tell you more about her when I get to meet her in person!
Did I tell you that my brother finally got an apartment. His very own apartment. It stills seems surreal. He moved in here about 4 years ago and it was supposed to be temporary. We told him back in 2003 that when we did our last IVF that he had to move out if it worked. It didn't so he was content to just stay. He moved between here and my sister's place for a while and now he is finally going. It's not that I don't love my brother and he is a great help with Jo most of the time, but we need the space. Especially now with our renos soon to start. May 1st is the moving day. I will soon have a room to set up my computer and sewing machine and not have things all over the basement. I can't wait!
It's snowing here again today. Just when we were starting to see the grass it's covered again. Mother nature just seems to tease up into thinking that we can put the winter stuff away and then we get more. I sent Jo to daycare this morning with her snow pants instead of just her splash pants. Maybe that's why I am feeling so tired. The ups and downs of spring.
We go tomorrow and sign for the new mortgage. I think the porch idea on the back of the house is history. Hubby talked to a contractor yesterday and in order to add it on we have to dig down to the original footing of the house and build up from there. There is another way, but both are going to be expensive and will eat up close to a third of the budget. I am however excited at the prospect of putting in a new furnace. I mentioned adding air conditioning at the same time and hubby said we didn't need it and he has now changed his mind. Most of the summer we can get by ok without it, but if we have more summers like we had last year it will be well worth the extra money.
I'm off for this morning.
Good day to all
posted by Northern Mom @ 8:35 a.m.

Monday, April 03, 2006
Thirty Seven and a Half Hours
There are so many things that can be done in that amount of time. Just as one example, my step sister's water broke at 530am and is only 4cm dilated after 17 hours. At this rate it could take a whole lot longer. I think you can drive from Ontario to Vancouver in 37 hours too. That I could be wrong about.

Last Thursday morning I set out at 8 am on a surprise of sorts. I am part of a small group of ladies that all met online. Most live fairly close together and there are a few of us who are further away. Me being one of them. When we have our weekend together once a year I am the one who gets to get on an airplane (I'm not complaining) and fly to Ottawa and then Silver Creek Mom picks me up from there and we head away for a weekend of fun. Because I live 500km from the main part of the group, I tend to miss out on playgroups, suppers and other get togethers. I have to admit that I've been really lucky, because when the ladies know I'll be in town they make an effort to have a get together with me.

On the March Break I spent part of it in Silver Creek and we had a great weekend with the kids, friends, shopping, sleighride and a little bit of wine. While I was there plans were already in the works for a supper at the end of March. I kinda hinted that I might make the effort to attend, but being a 5 to 6 hour drive the chances were slim.

I emailed Beachmama and invited myself to sleep at her house and she then was part of the surprise. I called SCM(Silver Creek Musings) from the highway asking her what she thought the temperature was in Ottawa. She thought it was around 14 or 15 and I told her that it was 17 and that I could be driving with the sunroof open. It took her a minute or 2 and then she shrieked when she realized where I was. I spent some time shopping and then went to Beachmama's house where we visited and then got ready for supper. When we arrived, 2 of the gals from the group were still in the parking lot and both did a double take when they saw me! It was great. I loved the look of surprise as they strolled into the restaurant and then realized I was there. Twinmom kept asking if I was for real! I spent the night and then did a little more shopping and then went to my grandparents for a quick visit before heading home. They were surprised as well and Nana told my mom on the weekend that I was crazy to drive all that way for supper. It was well worth the trip. Who knew that you could become such good friends with a bunch that met online. The weather was perfect for travel, without Jo I could play the music as loud as I wanted, I broke the speed limit a few times(Ok, most of the trip) and was back home and in my house by 930 on Friday evening. Had hubby been off on Saturday I would have stayed another day, but all worked out well.

I came home with a smile on my face, most of the Nemo product from the Disney Store, an easel and a few other odds and ends from IKEA and of course a few things from TRU.

I truly felt refreshed. So I guess in thirty seven and half hours, many things are possible!

Would I do it again? You bet! Even when I paid 103.9/litre for gas! I was well worth every minute. And did I mention what a wonderful hostess Beachmama is?
posted by Northern Mom @ 10:05 p.m.

Sunday, April 02, 2006
The IVF Debate
Last week I posted a letter that was sent to me by the Director of IAAC. The Infertility Awareness Association of Canada. The hope is that if enough people send this letter to key people in the Government then maybe parts or all of the costs of ART (Assisted Reproductive Technology) will no longer fall only into the patients hands and that possibly there might be some funding available. Dani over at Postcards from the Mothership posted the letter on her blog. She has many more readers than I do and the more people that get involved in this issue, the more awareness is created. It seems that there is a mild mannered (and hope it stays that way) debate over there.

I did not do IVF because of age related IF. I suffered 2 ectopic pregnancies 6 months apart in my early 20's. I'm not sure that anyone can understand the impact of being 24 years old and being told that IVF will be needed if I ever want to have children.


For couples in the situation such as mine are covered for IVF if you live in Ontario. I think it should be this way for the entire country. If for any other reason you are diagnosed as infertile then all costs must be paid out of your pocket.

Did you know that 1 in 6 couples suffer from infertility? Look around at your circle of friends. Some people remain completely anonymous in their struggle and then there are those like Dani and I who tell anyone who will listen.

I think that if you have had a vasectomy or a tubal ligation, then no there is no coverage. But what about the man who has a low count? Low Motility? Low Morphology? There might be no reason as to why this happens, but it does and sometimes some intervention is needed to help this couple become parents.

This is a huge debate and there are so many key points to address. Years ago I wrote letters to my Local, Provincial and Federal Governments. One point that I tried to make (I'm trying to make this sound nice and it's not happening so I'm just going to say it) There a so many single parents that continue to have children and do not work. The government sets them up geared to income housing, pays them a monthly allowance for food and a roof over their heads, in the fall they get a "bonus" of sorts to pay for winter clothing. The amount increases with each child, so in my opinion we, as tax payers are paying for these kids. So why is it that responsible couples who can provide for children are the ones who are suffering. Again, my opinion. Jo's birth mother is a perfect example of this. She will be 30 this summer, has had 5 live births and has custody of 4 of those. Her oldest is going to be 13 and she has not completed high school and has never had a job. Tell me where the fairness is.

I am going to steal a quote from Dani that she published via Janet.



I had a quote here about autism and IVF and have removed it at the request of Janet, via Danigirl.



There is no evidence to suggest that IVF carries a higher risk of children with any kind of delays or disorders. Here is one article at webmd.com
Assisted Reproduction: No Birth Defect Risk

Isn't the goal of modern medicine to make quality of life better?

IVF is still considered "experimental". The facts are there, the children are here. It does in fact work and although it isn't an exact science the statistics prove just that. To take from Dani again in comparing apples to oranges, there are many treatments for cancer that are experimental and don't always work. Is a person with cancer going to be denied treatment? In fact some patients are still taking chemo up until the very end. Everything is done to make the patients final days as comfortable as possible. The lives of infertile people should be as comfortable as possible as well.

Unless you have suffered through Infertility Hell you cannot begin to imagine what life is like.

The first part of the year isn't too bad until Easter when the commercialized part of this holiday occurs and you cannot shop without seeing parents buying Easter Outfits and goodies that the Easter Bunny will bring. And then just to knock you down just a little further you know that Mother's Day is a short few weeks later. That is the weekend that you want to stay in bed with the blankets over your head willing your body to sleep through it all. I sometimes think that Father's Day was worse. Hubby knew of my situation when we met, but you (I) feel like such a failure and less of a woman when your husband can't enjoy that weekend either. I would have to guess that these days are the opposite for couples dealing with Male Factor Infertility. The rest of the year isn't too bad except that everywhere you turn there are pregnant women, kids playing at the park, open windows so you can hear the babies crying...I could go on forever. For me I think the very worst was Christmas. To go out shopping and listen to people complaining that their child wants "this or that" and it's a gazillion dollars, to see the excitement as the kids are lined up waiting to tell Santa what they want. Just to know that when you wake up on Christmas morning that there are families everywhere with children that have been up since way too early because they were too excited to sleep. This for me was the worst part of not being a parent.

With my diagnosis of bilateral blockage of my fallopian tubes I questioned my RE (Reproductive Endocrinologist) why they cannot transplant tubes from patients who are having tubal ligations. His answer to me was that it is not a life threatening situation and I boldly asked, "Isn't it". I realize that people don't die because of their fertility or lack of, but how many sick days are used each year? How much is spent on antidepressants on a monthly basis? How many marriages break apart? The cost of not insuring ART sky rockets each and everyday.

Even if we don't get government funding maybe we can help mandate that insurance companies cover the some of the costs. There are parts of the US where it is mandatory to carry fertility treatments in their private insurance. I recall reading years ago that it would cost less than 80 cents per month to each individual paying into Extended Health Benefits (Employee Benefit Plans). Is that really too much to ask?

I don't mean to downplay any other Health Issues, but the word needs to get to our elected officials that this is real life. No matter what the illness, disorder or disease we should have fair access to affordable treatment.

I know I've jumped all over the place with this and I welcome your comments and suggestions. The main thing that needs to be done is to create awareness.
posted by Northern Mom @ 10:05 a.m.

About Me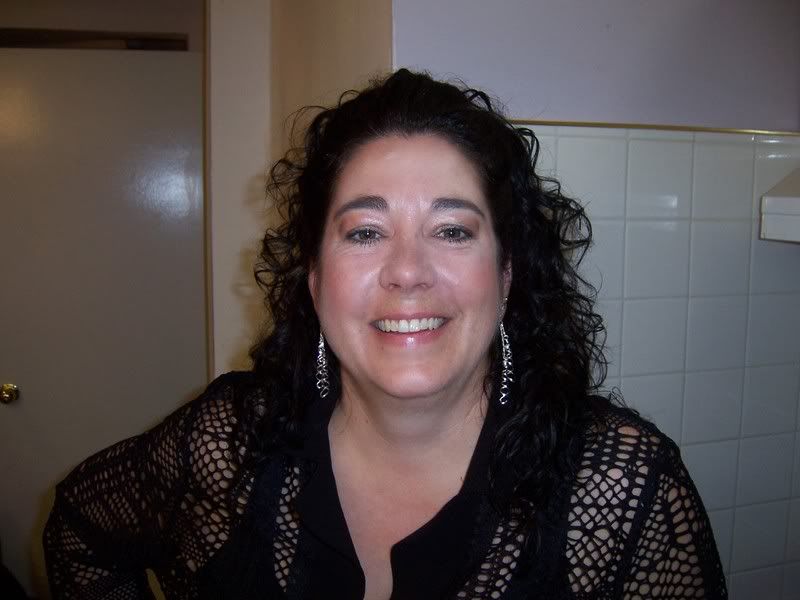 Name: Northern Mom
Home: Northern Ontario, Canada
About Me: There isn't too much to tell. I'm Mommy to Jo, wife to Hubby. I'm the oldest of 3 siblings and 4 step siblings, Auntie to a whole bunch of kids and Great Auntie to a few as well! I'm back to working 9-5 with no weekends or nights so keeping up with everything is a challenge!
See my complete profile
Previous Post
Archives
Links
Template by