Some Favourite Blogs
All The Blogs I Read
Knitting Links
Learn to Make it
Tuesday, April 24, 2007
Quick Update
A quick funny first, then the update.
Tonight Jo wanted me to play with her in the living room. I was in the process of putting supper away and said to her, "I can't right now, Mommy is tidying the kitchen" To which she replied "Why? Is somebody coming over?"
What a kid!

Now for Baby O


The chemo went better today than yesterday.

Here is part of yesterdays email

"She was in a lot of pain today, her little tummy was full of cramps from the chemo and all the medication she had to take."

I chatted briefly with my dad this afternoon and it was better than yesterday. I will be on the road Saturday morning with my sister to spend the night with them.

Here is something that my step brother wrote, I hope he doesn't mind me posting it. It brought tears to my eyes when I read it.

"To my sweet niece Olivia. Many feel this is unfair that a little girl has to go through what your are about to go through in your battle with cancer. I believe that our soul returns to Earth for a specific purpose and we choose to live the life we live. Many make sacrifices of themselves to teach others around them. In the past week I have learned from you about strength, love and to focus on what is truly important in life. Many issues that I thought were important all of a sudden aren't. I wish you didn't have to go through this and I know you have a difficult time ahead but you have the support and love of your family and you will be fine. You are a fighter and you have reminded me to fight for what I want and for that I thank you. I love you sweetie.

Uncle Pep"

Labels: Baby O's Journey
posted by Northern Mom @ 9:42 PM

Thursday, April 19, 2007
An email from O's Mom
O had her port cath inserted yesterday everything went well and so far there has been no signs of infection. As mentioned earlier she is to begin chemo Monday/Tuesday. Today we met with a chemo specialist who will be helping us through this plus her nurse who has been wonderful. The Dr today mentioned that O's type of cancer is very rare and only about 24 kids a year are diagnosed every year, she then went on to explain that her specific tumor,the position and that it is only in one eye is even more rare and they have only treated 4 kids like that. I guess from here we will be a part of a research study, crap and I thought I was done with "research", my fellow classmates can understand my humor in that. Anyways the tumor we found out yesterday did spread or "seed" as they call it. They again mentioned they will do all they can to save her eye. They also mentioned this will be a long road for O due to all the treatments. We will now have to stay here 14 days following her 2nd cycle of chemo which I believe brings us to June (beginning). From her last chemo treatment they will begin lazering and another treatment of freezing diferent sections of the eye. We are still on the waiting list for the Ronald McDonald house so hopefully soon. We are praying everything works and O does not have too many side effects, they will watch her closely and take good care of her. Thank you alll for your prayers and special emails it is so nice to hear from all of you and it means a lot.

Labels: Baby O's Journey
posted by Northern Mom @ 11:51 PM

Another O update
For those that asked,

this is a picture of how it was found. This picture is from O's birthday party at the end of March.

From Yesterdays Email
O had her surgery today and the central line put in so she can start her Chemo on Monday. They will stay in Toronto for 2 weeks following that to be sure that she isn't going to have a bad reaction to it. One of the side effects of this treatments is hearing loss, so they will be keeping a very close watch on her. Good news...her other eye is clear and no signs of a tumor at all. We can only hope that it stays that way. I think some people thought I was crazy when I heard about the chemo/radiation (it hadn't been decided yet) and the effect it would have on her fertility. I have such a twisted mind.....


The update for today
Baby O will have a very hard day tomorrow. They will be doing more tests one of which is a digital test on her ears because one of the side effects of chemo could be a loss of hearing and they want to see just how good her ears are now. Also they are going to do a test on her kidneys as well, (with the dye) to see if they are in good working order so they can determine that her kidneys will be able to handle the chemo and expell it out of her body OK. It is sounding like O and her mom will be in Toronto until the beginning of June. Things seem to change so much from day to day......

I can only say that I am grateful(if that's possible) that O is so young and won't remember most of this.....

My dad and step mom are still in Toronto with them, still in the same hotel room. It has been one week today since they flew from here. It sounds like the folks are going to have a weekend away. It's got to be tough enough with what is going on and then to be 4 adults and O in one hotel room. Apparantly they have found a play room in the hotel so maybe that will help pass the time. They hope to get into Ronald McDonald house soon.

My brother in law is going to Toronto on business early next week. We are thinking about putting together a care package to send to the hotel with snacks, books etc....any ideas????

Thanks for the thoughts and prayers

Labels: Baby O's Journey
posted by Northern Mom @ 10:49 PM

Tuesday, April 17, 2007
A Little Comic Relief


I keep watching this over and over and over....
Some sunshine in a dark and dreary day!
posted by Northern Mom @ 10:43 PM

A Note From Mel
From Mel via our Aunt




I thought it would be easier to send a message to all, as it is hard to call




everybody. It has been a hard few days I must say......we are praying for




the best. As most of you know O was diagnoised with cancer on Saturday




of this week. Tomorrow she will be getting a central cath put in and will




begin chemo on Mon and Tues of next week. We need to stay till her next




treatment three weeks from that date (in T.O). They will try everything they




can to save her eye (as that is where the cancer tumor is). She has had a




fever for the past couple days so things have been delayed. We ask for your




prayers as we know you have already been doing for us. We will keep in touch




and keep you updated. We are trying to get into the Ronald McDonald house as




we have been staying at the Delta Chelsea thus far. We will talk soon. Love




you all

Labels: Baby O's Journey
posted by Northern Mom @ 9:40 PM

Saturday, April 14, 2007
Thoughts for Jo's cousin are needed.....



Jo's cousin "Baby O" is in Toronto at Sick Kid's Hospital and has been since Thursday night. I don't have all the details except that she has a tumor in her eye and will be having some more testing done on Monday. We haven't been given the official diagnosis because my dad doesn't want us freaking out and getting too much info online. So far as we can figure out on our own and with what we have been told, O has Retinoblastoma. On Monday they will be sedating her, possibly right under and doing a very thorough exam. We do know that there will be radiation and laser involved with no mention of chemo yet.(we hope) The picture attached is from last weekend. I have no idea what to tell Jo, so I have told her nothing and hope that I don't have to at any point. O and her parents are surrounded by family. My dad and step mom are with them in Toronto and some of O's dad's family is there as well. They spent 6 weeks in Portugal over Christmas with family because O's grampa was diagnosed with cancer and didn't have a good prognosis. I can only imagine how they are feeling. I am kinda thankful that my dad is there with them although it must be bringing up old memories of being at Sick Kids with my brother when he was battling cancer so many years ago. He can well understand how O's parents are feeling and can hopefully help them through. I'll try and keep you posted with updates when we get them. Olivia just turned a year old on the 4th of April.

I don't have much faith anymore and am not sure what or who to believe, but maybe if there are enough good thoughts and prayers she'll get through all of this............

Labels: Baby O's Journey
posted by Northern Mom @ 10:50 PM

Sunday, April 01, 2007
Weekend Excitement.....Not the Good Kind
Saturday started like any regular Saturday. Jo went bowling and scored 69! She is getting better all the time and she is hilarious to watch even when all 3 balls go into the gutter...
I dropped Jo and K off and did a few little errands and then came home for some relax time during Jo's nap. We were supposed to go to her cousin's 1st birthday party after nap time, we didn't get there....
Around 11:30 Jo decided she wanted one of her babies and headed off for the basement to get one. The next thing we heard was thump, thump, thump followed by her screaming. I rushed down and K followed with an icepack to put on her eye where she had scraped it on the carpet during the tumbling. I carried her upstairs and we cuddled a little bit in the living room, she stopped crying and decided it was time for a nap. Her and I went to lay down and when I thought she was asleep I tried to sneak away. She started crying again and I went back in to check on her and she says "Mommy, I can't see" and repeated this so I figured it was just because the bedroom was dark. I ran across the hall into her room where the blind was open and really bright and I asked her to look at me and she looked everywhere, but couldn't see me and she was in my arms. I called 911 and while on with 911 she started throwing up. I was told to wrap her up and keep her cozy and quiet until the ambulance arrived. K got on the phone to find Hubby and he all but flew home when he heard the ambulance was on the way. The next thing I know there are 3 paramedics in my kitchen and Jo is hysterical. Hubby came flying into the house and of course I lost it as soon as I saw him, K was crying and so was Jo. We got into the ambulance, hubby in the back with 2 of the paramedics and me in the front with the driver. I felt so helpless. I could hear Jo screaming in the back that she wanted off, she wanted to sit up. They had her strapped to a backboard, had a Cervical Collar on and her head was immobilized too. We got to the hospital and they wasted little time getting her into a triage room and between the nurses and the paramedics, got her all hooked up for monitoring. I had called my mom to meet me there and went to find her. At this point, Jo still couldn't see very well and was really disoriented. A security guard came in to tell us that there were grandparents in the waiting room and my mom went out and got Jo's Papa and Gramma. Everyone was trying to get her to look at them and we'd ask, where's mommy and Jo would point in the complete opposite direction and here eyes just wouldn't focus or even move in the direction we wanted her to be looking.
The Dr came in and did a quick assessment, took her off the backboard, but kept the collar on. He told us she was going to have CT Scan and Neck X-rays and told us not to worry, and to let her sleep. We were all trying to keep her awake. She slept for about 10 minutes, woke up, threw up and looked at my mom and said, "Nanny, I can see, Nanny I can see you!" She was a real trooper after that and stayed still for the CT Scan and X rays. The Dr came back in to see us and said that everything looked perfect and took the collar off. He wanted her to move her head around a bit and she refused, so he tickled her a bit and sent us home asking us to keep her quiet for a few days and that with a concussion she could still have headaches and maybe vomit some more. She fell asleep on hubby while we were waiting for our neighbour to come and get us with our truck and stayed asleep for the ride home and for about an hour after we got her into bed. She woke up, asked for a bun with butter and wanted to go outside. We went for a walk, visited some of the neighbours so they could see that she was ok and then she played in the back yard until almost 8! She had a bath and giggled when we took her shirt off, because she still had her hospital stickers on from the heart moniter.
She is no worse for the wear and I am amazed at how quickly she bounced back. The bruise on her chin is from the wipe out on Thursday night and you can see the scrapes on her eye from the fall down the stairs. Today she complained once that her head hurt but was her happy self most of the day. We did go to to see her cousin and take her presents to her, but stayed quiet the rest of the day.
She is going to daycare tomorrow, but we will both be checking in on her and one of us will come home if we think she needs us. Her sitter knows to keep her settled and quiet, one of the advantages of having her in a home daycare!
Making faces in the tub.....what a kid. You can see where the hospital stickers were too!


posted by Northern Mom @ 7:34 PM

About Me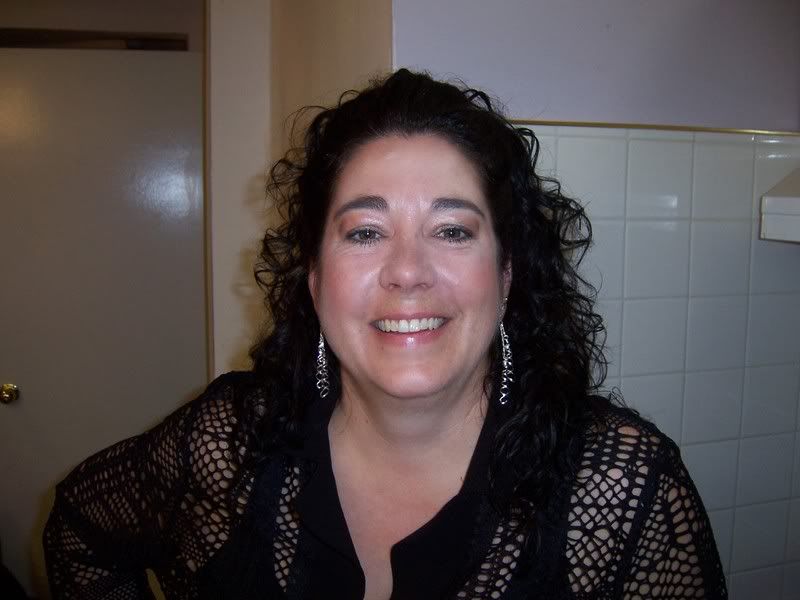 Name: Northern Mom
Home: Northern Ontario, Canada
About Me: There isn't too much to tell. I'm Mommy to Jo, wife to Hubby. I'm the oldest of 3 siblings and 4 step siblings, Auntie to a whole bunch of kids and Great Auntie to a few as well! I'm back to working 9-5 with no weekends or nights so keeping up with everything is a challenge!
See my complete profile
Previous Post
Archives
Links
Template by